Posts for tag: diabetes
By Mario A. Vilardi, DMD
September 20, 2018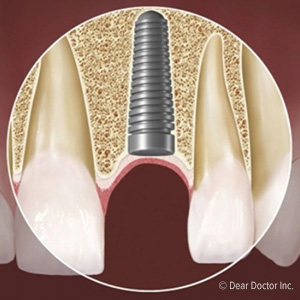 One of the best and most successful tooth replacement choices available is the dental implant. No other restorative method is as similar in both form and function to a real tooth as an implant; and with a success rate of 95-plus percent after ten years, it's one of the most durable.
But there can be extenuating circumstances that make obtaining an implant difficult or sometimes impossible. One possible problematic situation is the systemic disease diabetes.
Diabetes is a hormonal condition in which the body is unable to sufficiently regulate the amount of glucose (a basic sugar that provides energy to the body's cells) within the blood stream. Normally, the pancreas produces the hormone insulin to reduce excess glucose. But diabetes interferes with this insulin production: if you have Type 1 diabetes, the pancreas has stopped producing insulin altogether; if you have the more common Type 2, the body doesn't produce adequate insulin or it doesn't respond sufficiently to the insulin produced.
Over time diabetes can affect other areas of health, especially wound healing. Because the condition gradually causes blood vessels to narrow and stiffen, the normal inflammatory response to disease or trauma can become prolonged. This in turn slows the rate of wound healing.
Slow wound healing can have a bearing on the recovery period just after implant surgery, especially the necessary integration process that takes place between the bone and the titanium metal implant that provides its signature strength. If that process is impeded by slow wound healing caused by diabetes, the risk increases dramatically for implant failure.
That's the worst case scenario if you have diabetes, but only if your condition is out of control. If, however, you have your blood sugar levels well regulated through medication, diet and exercise, then your chances for implant success could easily be on par with someone without diabetes.
So if you're diabetic and are considering dental implants for missing teeth, it's important to discuss the possibility of obtaining them with both your dentist and the physician caring for your diabetes. With your overall healthcare team working together, there's no reason why diabetes should stop you from enjoying this premiere restoration for missing teeth.
If you would like more information on obtaining dental implants, please contact us or schedule an appointment for a consultation. You can also learn more about this topic by reading the Dear Doctor magazine article "Dental Implants & Diabetes."
By Mario A. Vilardi, DMD
December 21, 2015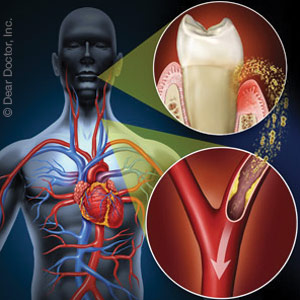 If you have periodontal (gum) disease, you probably already know you're in danger of eventual tooth and bone loss if the infection isn't brought under control. But if you also have diabetes, the effects from gum disease could extend well beyond your mouth.
Gum disease is a bacterial infection caused by plaque, a film of food remnant that builds up on tooth surfaces mainly due to poor oral hygiene. As the infection grows, your body's immune system responds by flooding your gum tissues with antibodies to fight it, resulting in inflammation. As the inflammation persists, though, it damages the gum and underlying bone tissue, which in turn leads to gum and bone loss from the teeth.
Diabetes also causes an inflammatory response within the body. The disease develops either as a result of the body's decreased ability to produce insulin to balance the glucose (sugar) levels in the bloodstream (Type 1) or the body develops a resistance to insulin's effects (Type 2). As a result diabetics experience abnormally high blood glucose levels, a condition called hyperglycemia. This triggers chronic inflammation that can lead to inhibited wound healing, increased risk of heart, kidney or eye disease, coma or death.
Gum disease can worsen diabetic inflammation, and vice versa. The effects of the oral infection add to the body's already overloaded response to diabetes. In turn, the immune system is already compromised due to diabetes, which can then increase the severity of the gum disease.
Research and experience, though, have found that pursuing treatment and disease management for either condition has a positive effect on managing the other. Treating gum disease through plaque removal, antibiotic therapy, surgery (if needed) and renewed oral hygiene will diminish the oral infection and reduce the body's immune response. Caring for diabetes through medication, diet, exercise and lifestyle changes like quitting smoking will in turn contribute to a quicker healing process for infected gum tissues.
Treating gum disease when you have diabetes calls for a coordinated approach on both fronts. By caring for both conditions you'll have a more positive effect on your overall health.
If you would like more information on the relationship between diabetes and gum disease, please contact us to schedule an appointment for a consultation.
By Mario A. Vilardi, DMD
March 18, 2014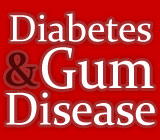 Diabetes and periodontal (gum) disease are two types of inflammatory conditions that have more in common than was once thought. There is strong evidence to show that each of these diseases is a risk factor for the development and growth of the other. Studies have also found that treating one condition successfully may have a positive impact on the treatment of the other.
From the Greek meaning "to pass through the urine," diabetes mellitus causes an abnormal rise in blood glucose level that can't be adequately controlled by insulin, the body's primary hormone for that task. Either the pancreas can't produce an adequate supply of insulin (as with Type 1 diabetes) or there is resistance to the hormone's effects (as with Type 2 and gestational/pregnancy diabetes). If you are a diabetic patient, you face many difficult issues with your health: your body develops an altered response to inflammation that may severely inhibit wound healing. You also may become more prone to chronic cardiovascular disease.
Periodontal (gum) disease describes a group of diseases caused by dental plaque, a whitish film that contains infection-causing bacteria. As infection rises within the gum tissues, the auto-immune system of the body responds to this threat and inflammation results. If the person is also a diabetic, this response may be impaired and may have a direct effect on how severe the periodontal disease progresses.
Periodontal disease can also affect your blood glucose level, if you are a diabetic. A number of studies have demonstrated that diabetic patients who have improved control of their periodontal disease through better oral hygiene and dental treatments have shown improvement in their blood sugar levels. There's even some evidence that effective periodontal treatment that reduces inflammation may improve the body's sensitivity to insulin. Likewise, bringing diabetes under control with supplemental insulin or positive lifestyle changes can help lessen the likelihood and severity of periodontal disease.
To sum it up, if you have been diagnosed with some form of diabetes, taking care of your teeth and gum tissues can have a positive impact on your diabetes. Likewise, making healthy changes in your lifestyle to bring your diabetes under control can reduce your risk for periodontal disease.
If you would like more information about periodontal disease and its effect along with diabetes, please contact us or schedule an appointment for a consultation. You can also learn more about this topic by reading the Dear Doctor magazine article "Diabetes and Periodontal Disease."