Posts for: May, 2019
By Mario A. Vilardi, DMD
May 18, 2019
Losing teeth continues to be an all too common experience for people, especially those in their senior years. Fortunately, there are several ways to replace them, ranging from partial or full dentures to implants.
Some, though, postpone or simply choose not to replace a lost tooth, often because of the cost. But putting off a dental restoration could have a long-term impact on your health, and not in a good way. Continuing bone deterioration is one of the top consequences of delayed restoration.
Like other bones in the body, the jawbone is living tissue with cells that form, grow and eventually wear out. At the end of their life, these older cells give way to new cells. Eating and chewing play an important role in maintaining this growth cycle: the forces we generate as we chew travel up through the tooth roots to stimulate bone growth in the jaw.
When a tooth goes missing, though, the stimulus ends. Over time the bone cell replacement rate can fall off and the bone slowly loses volume. To make matters worse, bone loss can continue beyond the immediate bone underlying the tooth and affect the rest of the jawbone. The jaw can shrink in height and width, and in time become weaker overall and more susceptible to fracture.
But dental implant restorations in particular could help stop or even reverse bone deterioration at the site of the missing teeth. The titanium post implanted in the jaw attracts bone cells, which grow and adhere to its surface. Over time the bone fills in and becomes stronger.
You don't want to wait too long, though, because implants depend on a minimum amount of bone present for secure placement. You should therefore undergo an implant restoration as soon as it's practical after tooth loss. Otherwise, although we may be able to restore some of the lost bone with bone grafting, you may need to consider another restorative option.
When it comes to replacing missing teeth, time isn't on your side. But the right kind of dental restoration undertaken promptly can make for a brighter, healthier future.
If you would like more information on restoring lost teeth, please contact us or schedule an appointment for a consultation. You can also learn more about this topic by reading the Dear Doctor magazine article "The Hidden Consequences of Losing Teeth."
By Mario A. Vilardi, DMD
May 08, 2019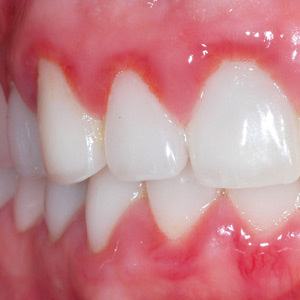 That bit of gum bleeding after you brush, along with redness and swelling, are strong signs you have gingivitis, a form of periodontal (gum) disease. Without treatment, though, your gingivitis could turn into something much more painful and unsightly — a condition commonly known as "trench mouth."
Properly known as Acute Necrotizing Ulcerative Gingivitis (ANUG), the more colorful name arose from its frequent occurrence among soldiers during World War I. Although not contagious, many soldiers contracted it due to a lack of means to properly clean their teeth and gums and the anxiety associated with war. Inadequate hygiene and high stress still contribute to its occurrence today, along with smoking, medications that dry the mouth and reduced disease resistance — all of which create a perfect environment for bacterial growth.
ANUG can arise suddenly and be very painful. The cells in the gum tissue begin to die ("necrotizing") and become swollen ("ulcerative"), especially the small triangle of gum tissue between the teeth called the papillae, which can appear yellowish. Patients also encounter a characteristic foul breath and taste. Untreated, ANUG can damage tissue and contribute to future tooth loss.
Fortunately, antibiotics and other treatments are quite effective in eradicating bacteria that cause the disease, so if caught early it's completely reversible. We start with a complete examination to confirm the diagnosis and rule out other possible causes. We then attempt to relieve the pain and inflammation with non-steroidal, anti-inflammatory drugs like aspirin or ibuprofen and begin antibiotic treatment, most notably Metronidazole or amoxicillin. We may also prescribe a mouthrinse containing chlorhexidine and mild salt water rinses to further reduce the symptoms.
We must also treat any underlying gingivitis that gave rise to the more acute disease. Our goal here is remove any bacterial plaque and calculus (hardened plaque deposits) that have built up on tooth surfaces, particularly below the gums. Only then can we fully bring the disease under control.
It's also important you become more consistent and effective with daily brushing and flossing, quit smoking, reduce undue stress, and get better rest and nutrition. Establishing these new habits and lifestyle changes will help ensure you'll never have to experience trench mouth again.
If you would like more information on ANUG and other periodontal gum conditions, please contact us or schedule an appointment for a consultation. You can also learn more about this topic by reading the Dear Doctor magazine article "Painful Gums in Teens & Adults."