Posts for: March, 2018
By Mario A. Vilardi, DMD
March 29, 2018
Orthodontic treatment is a big investment. But given the benefits for future good health and a more attractive smile, it's well worth it.
In the here and now, though, braces wearers face a different threat to their dental well-being — dental disease. Wearing braces can actually increase the risk of disease and make it more difficult to fight.
Tooth decay and periodontal (gum) disease, the two most common forms of dental disease, usually arise from plaque, a thin film of bacteria and food particles on tooth surfaces. The bacteria produce acid, which erodes enamel and makes the teeth susceptible to decay. Certain bacteria can also infect the gums and eventually weaken their attachment to teeth. Thorough brushing and flossing everyday removes this disease-triggering plaque buildup.
But braces' hardware can make brushing and flossing more difficult. The brackets attached to the teeth and wires laced through them make it more difficult for floss and brush bristles to access all the areas around the teeth. Plaque can build up in certain spots; it's estimated braces wearers have two to three times the plaque of a person not wearing braces. Acid can also remain in contact with some of the enamel surface for too long.
It's important, therefore, if you wear braces to make a concerted effort to brush and floss thoroughly. Besides improving technique and taking more time, you might also consider additional aids. You can obtain toothbrushes specially designed for use with braces, as well as floss holders or threaders that make it easier to access between teeth. Another flossing alternative is an oral irrigator that sprays water under pressure between teeth is an alternative to flossing.
As a precaution against acid damage, we can boost enamel protection with additional fluoride applied to your teeth. We may also prescribe antibacterial rinses to keep the bacteria population low.
Above all, be sure to look out for signs of disease like swollen or bleeding gums or pain. As soon as you sense something out of the ordinary, be sure and contact us.
If you would like more information on keeping your teeth disease-free while wearing braces, please contact us or schedule an appointment for a consultation. You can also learn more about this topic by reading the Dear Doctor magazine article "Caring for Teeth During Orthodontic Treatment."
By Mario A. Vilardi, DMD
March 14, 2018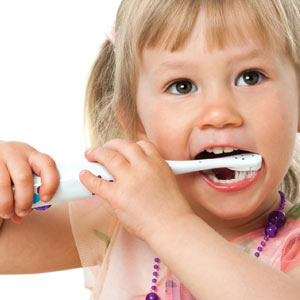 Like many other families, you may use formula instead of breast milk as a safe and healthy alternative to feed your infant. But, if you use a powdered form that you mix with water your child may be taking in more fluoride than they require.
Fluoride is a natural chemical that can strengthen tooth enamel and help prevent decay. After decades of study it's also been shown to pose no serious health risks. Because of fluoride's benefits and safety, many water utilities add tiny amounts to their drinking water supply.
But it can have one side effect called enamel fluorosis. If a child ingests too much fluoride during early development it can cause discoloring mottled spots or streaking in permanent teeth. Although it doesn't affect their health, the teeth can be unattractive and require cosmetic attention.
That's why it's best to keep fluoride consumption to a healthy minimum for children. That, however, is often easier said than done, since we can encounter hidden fluoride in a variety of places. Besides hygiene products and fluoridated drinking water, you may find fluoride in prepared juices and other beverages, bottled water or in foods processed with fluoridated water. There are no labeling requirements for fluoride, so you'll have to research to find out if a product contains fluoride.
There are, however, some things you can do to control your child's fluoride intake. First, know as much as you can about known sources your child may encounter like your water supply. You can find out if your utility adds fluoride and by how much by contacting them or visiting My Water's Fluoride online at https://nccd.cdc.gov/DOH_MWF/.
If you use fluoride toothpaste apply only a "smear" on the end of the brush for children under two and a pea-sized amount for older children. If you have fluoridated drinking water, consider breastfeeding your infant, use ready-to-feed formula or mix powdered formula with bottled water labeled "de-ionized," "purified," "demineralized" or "distilled."
And, do feel free to discuss your concerns with us during your child's regular checkup. We'll help you adjust their diet, water intake and hygiene habits to be sure they're receiving the right amount they need for developing strong teeth — and no more.
If you would like more information on appropriate fluoride levels for children, please contact us or schedule an appointment for a consultation. You can also learn more about this topic by reading the Dear Doctor magazine article "Tooth Development and Infant Formula."