Posts for: January, 2018
By Mario A. Vilardi, DMD
January 20, 2018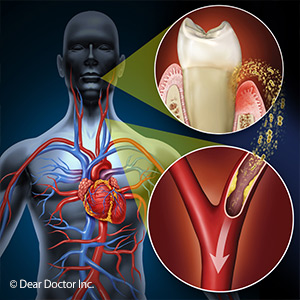 Is there a link between periodontal (gum) disease and cardiovascular disease? Medical researchers are endeavoring to answer this intriguing question, but early findings seem to say yes. If it bears true, the findings could advance treatment for both diseases.
There is one thing that can be said for certain: inflammation is a factor in both diseases' progression. Gum disease begins as an infection caused by bacteria growing in plaque, which is made up of bacteria and a thin film of food remnant that adheres to tooth surfaces. The body responds to this infection through tissue inflammation, an attempt to prevent the infection from spreading. Likewise, inflammation appears to be a similar response to changes in blood vessels afflicted by cardiovascular disease.
While inflammation is part of the body's mechanism to heal traumatized tissue, if it becomes chronic it can actually have a damaging effect on the tissues intended to benefit. For patients with gum disease, chronic inflammation causes connective tissues to detach from teeth, leading eventually to tooth and bone loss. Similarly, inflammation damages the linings of blood vessels in cardiovascular disease patients.
Researchers want to know what role bacteria may also play in the progression of cardiovascular disease. Initial studies seem to indicate that proactively treating the gum disease by removing all plaque from oral surfaces in patients with both conditions does appear to improve the health of diseased blood vessel linings. Whether this could ultimately reduce the occurrence of heart attack or stroke still needs to be ascertained.
As we learn more about the possible connections between these two diseases, there's hope it will lead to new advancements that could improve health outcomes for both. It may prove to be the case, then, that maintaining a healthy mouth promotes a healthy heart, and vice-versa.
If you would like more information on the connection between gum disease and heart disease, please contact us or schedule an appointment for a consultation. You can also learn more about this topic by reading the Dear Doctor magazine article "Periodontal Inflammation and Heart Disease."
By Mario A. Vilardi, DMD
January 05, 2018
Fans of the legendary rock band Steely Dan received some sad news a few months ago: Co-founder Walter Becker died unexpectedly at the age of 67. The cause of his death was an aggressive form of esophageal cancer. This disease, which is related to oral cancer, may not get as much attention as some others. Yet Becker's name is the latest addition to the list of well-known people whose lives it has cut short—including actor Humphrey Bogart, writer Christopher Hitchens, and TV personality Richard Dawson.
As its name implies, esophageal cancer affects the esophagus: the long, hollow tube that joins the throat to the stomach. Solid and liquid foods taken into the mouth pass through this tube on their way through the digestive system. Worldwide, it is the sixth most common cause of cancer deaths.
Like oral cancer, esophageal cancer generally does not produce obvious symptoms in its early stages. As a result, by the time these diseases are discovered, both types of cancer are most often in their later stages, and often prove difficult to treat successfully. Another similarity is that dentists can play an important role in oral and esophageal cancer detection.
Many people see dentists more often than any other health care professionals—at recommended twice-yearly checkups, for example. During routine examinations, we check the mouth, tongue, neck and throat for possible signs of oral cancer. These may include lumps, swellings, discolorations, and other abnormalities—which, fortunately, are most often harmless. Other symptoms, including persistent coughing or hoarseness, difficulty swallowing, and unexplained weight loss, are common to both oral and esophageal cancer. Chest pain, worsening heartburn or indigestion and gastroesophageal reflux disease (GERD) can also alert us to the possibility of esophageal cancer.
Cancer may be a scary subject—but early detection and treatment can offer many people the best possible outcome. If you have questions about oral or esophageal cancer, call our office or schedule a consultation. You can learn more in the Dear Doctor magazine article "Oral Cancer."