Posts for: October, 2017
By Mario A. Vilardi, DMD
October 29, 2017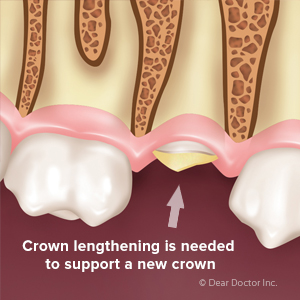 A crown — a life-like "cap" made of dental porcelain that permanently covers an existing tooth — is an effective way to restore a still-viable decayed or broken tooth's appearance. Properly fitting the crown over the tooth requires some healthy tooth structure above the gum line.
But what if the tooth has broken down to the gum line? In this case, we would need to perform a common procedure known as crown lengthening to expose more of the tooth.
Crown lengthening is a minor surgical procedure performed with local anesthesia to numb the tooth, surrounding gum tissues and supporting bone. We first make tiny incisions inside the gum-line on both the cheek and tongue side of the tooth to expose the bone, and then carefully remove a small amount of bone from either side of the tooth; this will expose or "lengthen" the tooth. Once finished, we suture the gum tissue back into place with self-dissolving sutures against the bone and tooth.
Most procedures take only sixty to ninety minutes, and the mild discomfort afterward is usually managed with pain relievers like ibuprofen. While the gum tissues may appear to be healed after a week, we typically wait six to eight weeks to perform the final crown restoration to give the tissues time to fully mature.
Crown lengthening may not work in all situations, especially with a severely fractured tooth. In these cases, we may need to evaluate the long-term viability of the tooth and consider other restorative options. Depending on your bite, it may also be necessary to treat with orthodontics first: not only will the tooth move into a better position, but the treatment may move both the gum and bone down with the tooth. Subsequent crown lengthening will then only affect the intended tooth and not adjacent ones, resulting in a more even smile.
The first step is for us to decide after a thorough examination if you would benefit from crown lengthening. If so, this minor surgical procedure could pave the way for better mouth function and a more attractive smile.
If you would like more information on crown restorations, please contact us or schedule an appointment for a consultation.
By Mario A. Vilardi, DMD
October 14, 2017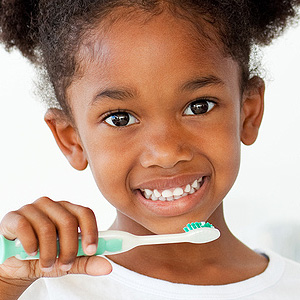 October is National Dental Hygiene Month. It's a great time to talk about your first line of dental defense: your toothbrush.
Are you getting the most out of your tooth-brushing routine at home? Your toothbrush is the primary tool to maintain oral health on a daily basis, so here are some tips to keep in mind:
Brush gently twice a day, every day, for two minutes each time using a soft toothbrush. Scrubbing with too much force or with hard bristles can damage gums and tooth enamel.
Use fluoride toothpaste to prevent tooth decay. Fluoride is a mineral that builds tooth enamel to prevent tooth decay.
Replace your toothbrush every 3 to 4 months or when the bristles start to look frayed, curled, or worn.
Rinse out your mouth thoroughly after brushing to get rid of bacteria and food debris that you worked loose from your teeth.
Also rinse your toothbrush well after each use to wash away the debris and bacteria you just brushed from your teeth.
Let your toothbrush dry out between uses. A toothbrush that is stored in a closed container can become a breeding ground for bacteria.
Keep your toothbrush to yourself. Sharing toothbrushes is a way to share disease-causing germs as well.
Follow these pointers and come in for regular dental visits to help ensure healthy teeth and a bright smile. If you have any questions about your dental hygiene routine, be sure to ask us.
To learn more, read these informative articles in Dear Doctor magazine: "Manual vs. Powered Toothbrushes" and "10 Tips For Daily Oral Care at Home."