Posts for: August, 2017
By Mario A. Vilardi, DMD
August 30, 2017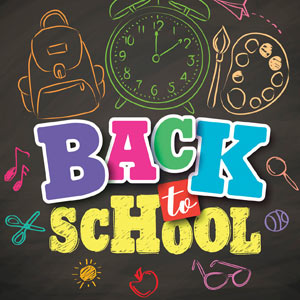 What's the most fun thing about back-to-school time? For many of us, it's the shopping! Those cool backpacks and colorful sneakers put smiles on a lot of young faces. While you're out buying new school supplies and freshening up your kids' wardrobes, why not freshen up their oral health supplies as well?
For example, it might be time for a new toothbrush. The American Dental Association recommends replacing toothbrushes every three to four months, or more frequently if the bristles are frayed. A worn toothbrush won't do as good a job cleaning teeth. And with all of the cartoon characters and superheroes available on toothbrushes, picking one out can be just as fun as choosing a new lunchbox or notebook!
While you're at it, check your kids' supply of dental floss as well. If they've run out, they might not have told you. As important as flossing is, it's not every kids' idea of fun. If you're having trouble getting your kids to use a spool of floss, why not try a disposable little tool made just for flossing? Flossers are super-easy to use, and these, too, come in all kinds of fun shapes and colors.
Here's an important item for the school athletes in your house: a mouthguard. Sports-related dental injuries account for more than six hundred thousand emergency room visits each year. If your child wears braces, a mouthguard may be particularly important. So please contact us about a custom-made mouthguard for your child — or if you have any other questions about oral health and hygiene. And have a safe and healthy return to school!
By Mario A. Vilardi, DMD
August 15, 2017
As a member of the best-selling pop group Spice Girls, Mel C (AKA Sporty Spice) enjoyed her share of musical superstardom. At the band's peak in the Nineties, the young singer's signature look featured baggy sweatpants, an assortment of tattoos, a nose stud and a gold-capped incisor, front and center in her mouth. Today, Melanie Chisholm is still singing — but now she's a mom, an amateur triathlete… and that gold tooth is just a memory. Not only that, her smile looks more evenly spaced and whiter than it did when she was referred to as the "tomboy" of the group.
What happened? In our view, it all boils down to changing tastes — plus a little bit of help from dental professionals. As the "wannabe" singer proves, there's no single standard when it comes to making your teeth look their best. Your own look is unique to you — and your smile can reflect that individuality.
For example, crowns (caps) are substantial coverings that may be placed on teeth when they are being restored. They are available in three types: gold, all-porcelain, or porcelain-fused-to-metal. The latter two are tooth-colored, while the gold is — well, shiny like gold bling. Which one is right for you? In many cases, it's your choice.
Likewise, dental veneers — wafer-thin shells that can correct cosmetic issues by covering the surface of your teeth — can be made in a variety of shades. Their hues may range from natural ivory to Hollywood white, and everything in between. What's the best color for you? Only you can say.
Some people opt for a "smile makeover" that uses small irregularities in the spacing and color of teeth to create a more "natural" look. Other folks want a perfectly even, brilliant white smile that dazzles the eye. Still others are looking to match or restore the smile they once had — perhaps even re-creating a signature gap between the teeth. As long as there are no other dental issues involved, the choice is yours.
So if you're unhappy with your smile — or if you feel it doesn't reflect the person you "wannabe" — why not talk to us about a smile makeover? Just call our office to schedule a consultation. You can learn more about this topic in the Dear Doctor magazine articles "Beautiful Smiles by Design" and "The Impact of a Smile Makeover."