Posts for: May, 2015
By Mario A. Vilardi, DMD
May 16, 2015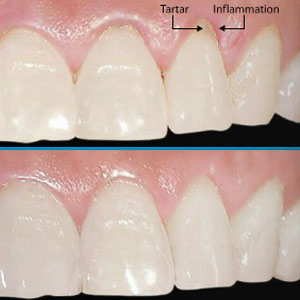 Periodontal (gum) disease is an aggressive bacterial infection caused by built-up plaque on tooth surfaces. Gum disease results in bone loss and causes loss of attachment from the teeth, leading to eventual tooth loss.
The goal of any gum disease treatment is to remove as much plaque and calculus (hardened deposits of plaque) from the gums and teeth as possible. Scaling with special hand instruments or ultrasonic equipment is the basic technique for plaque and calculus removal above and below the gum line. As the infection spreads below the gum line, it can widen the natural gap between teeth and gums to form voids known as periodontal pockets that fill with infection. Accessing and cleaning these pockets, which can occur as deep as the tooth roots, will require more invasive procedures.
Pockets that form at a depth greater than 5 mm below the gum line will most likely require surgical access through the gum tissue. But for pockets not quite that deep there's an intermediary technique called root planing without surgical intervention. As the name suggests, the roots are physically "planed," much like shaving a wooden board to remove minute layers of wood.
Using similar instruments as with scaling, root planing removes calculus, bacteria and other infected matter adhering to the root surfaces. It's best to perform the procedure with local anesthesia to numb the gum tissues, which may be quite sensitive depending on the degree of infection. Working in a pain-free environment also helps us to be as thorough as possible in detecting and removing every bit of plaque and calculus we can find.
In advanced cases, it may be necessary to perform this procedure during multiple visits. As plaque and calculus are removed the inflammation in affected tissues will begin to subside, revealing more deposits of plaque and calculus. It's also important to begin and maintain a daily habit of effective brushing and flossing to lessen the chances of a recurring infection.
Treating gum disease is an ongoing effort that requires constant monitoring and sustained efforts to remove plaque and calculus, including root planing. Saving your teeth, however, is well worth the effort.
If you would like more information on treating periodontal disease, please contact us or schedule an appointment for a consultation. You can also learn more about this topic by reading the Dear Doctor magazine article "Root Planing."
By Mario A. Vilardi, DMD
May 01, 2015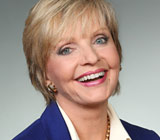 She's an international star who's recognized everywhere she goes. As Carol Brady, she was an ambassador for the "blended family" before most of us even knew what to call her bunch. And her TV Land Pop Culture Icon Award is on permanent display in the National Museum of American History. So what item that fits inside a purse can't Florence Henderson do without?
"I will never leave home without dental floss!" she recently told an interviewer with Dear Doctor magazine. "Because I have such a wide smile, I have found spinach or black pepper between my teeth after smiling very broadly and confidently."
Henderson clearly understands the importance of good oral hygiene — and she's still got her own teeth to back it up! In fact, flossing is the best method for removing plaque from between the teeth, especially in the areas where a brush won't reach. Yet, while most people brush their teeth regularly, far fewer take the time to floss. Is there any way to make flossing easier? Here are a couple of tips:
Many people have a tendency to tighten their cheeks when they're holding the floss, which makes it more difficult to get their fingers into their mouths and working effectively. If you can relax your facial muscles while you're flossing, you'll have an easier time.
To help manipulate the floss more comfortably, try the "ring of floss" method: Securely tie the floss in a circle big enough to easily accommodate the fingers of one hand. To clean the upper teeth, place fingers inside the loop, and let the thumb and index finger guide the floss around each tooth. For the lower teeth, use two index fingers. Keep moving the floss in your hand so you always have a clean edge... and remember, the goal is to get the tooth clean, but it shouldn't hurt — so don't use too much pressure or go too fast.
So take a tip from Mrs. Brady: Don't forget the floss! If you would like more information about flossing and other oral hygiene techniques, please contact us for a consultation. You can learn more in the Dear Doctor magazine article "Flossing: A Different Approach."