Posts for: April, 2015
By Mario A. Vilardi, DMD
April 16, 2015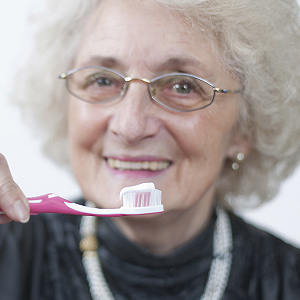 A focus on dental care in senior citizens is just as important as it is for children. Indeed, oral health in your later years can be a major factor in your quality of life.
For one, aging effects on other parts of the body can make dental care more challenging. Some hygiene tasks once performed easily become harder — arthritis, for example, or loss of muscle strength may make it difficult to hold a toothbrush or floss. In such cases, you may need to find new ways to make the task easier: a power toothbrush with a larger handle; pre-loaded floss holders or a water flosser; or adaptations to a manual brush to make it easier to hold, like attaching a tennis ball or bike handle.
Other age-related conditions — and their treatments — can negatively impact oral health. Less saliva production, which is a consequence of aging or certain drugs, increases the risk of tooth decay or periodontal (gum) disease. Older adults often develop gastric reflux problems that can introduce tooth enamel-eroding stomach acid into the mouth. And medications called bisphosphonates, often prescribed to treat osteoporosis, may interfere in rare cases with bone healing after tooth extraction or similar procedures.
Prior dental work can also prove challenging to treating dental disease. It becomes more difficult to preserve teeth threatened with decay if there are significant restorations or appliances to work around. Pain perception can also diminish with age, so that dental disease may not be noticed until later stages when significant damage has already occurred.
Oral care requires more attention as we grow older, or as we care for older family members. Your best defense against disease is to continue regular six-month visits with us. In addition to normal cleanings and checkups, we'll also screen for oral cancer (a more prevalent occurrence in older adults), review your prescriptions or other supplements and medications for any possible side effects to oral health, check the fit of any dentures or other restorations and evaluate the effectiveness of your hygiene.
While other age-related conditions may capture the majority of your attention, you shouldn't allow that to neglect your dental care. With your continued efforts, along with our support and your family's, you can continue to enjoy good oral health throughout your lifetime.
If you would like more information on dental care for senior adults, please contact us or schedule an appointment for a consultation.
By Mario A. Vilardi, DMD
April 01, 2015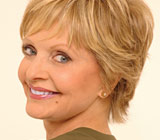 Florence Henderson is a multi-talented actress most recognized for her role as Carol Brady on The Brady Brunch, one of the longest-running situational comedies. In fact, this role earned her the title of America's Favorite TV Mom and her first TV Land Pop Culture Icon award, which is on permanent display in the National Museum of American History.
During an interview with Dear Doctor magazine, Henderson discussed her oral health as well as her role as spokesperson for Polident (denture cleanser) — even though she does not have dentures. Henderson attributes her beautiful, natural smile to prevention. "Flossing, brushing and regular dental checkups are vital if you want to keep your teeth," she said, adding, "I always have mouthwash, dental floss, toothpaste and a toothbrush on the set."
Similar to the great advice "Carol Brady" shared on television, Henderson's advice on oral hygiene is spot-on. We agree that an effective educational approach to oral hygiene and diet is essential to keeping teeth for a lifetime.
The first step is to ensure you have a proper brushing and flossing technique. We can go over these during your next office visit. Our goal is to ensure that you are applying the ideal amount of pressure and motion because gum tissues are soft and can easily be damaged. And you should never use a hard-bristled toothbrush or saw at your gums and teeth when brushing. The best technique is a modified, gentle scrub where you hold a well-designed, multi-tufted toothbrush at a 45-degree angle to the gum line to gently wiggle/scrub your teeth clean.
As for flossing, you should do it at least once daily to remove the plaque buildup that occurs in the protected areas between teeth where your toothbrush can't reach and where periodontal (gum) disease and dental caries (cavities) start and progress. Many people are shocked to learn that over 50% of the accumulation of plaque occurs in these areas.
To learn more about proper oral hygiene, you can continue reading the Dear Doctor magazine article "Oral Hygiene Behavior." Or you can contact us today to schedule an appointment so that we can conduct a thorough examination and discuss what treatment options will be best for you. And to read the entire interview with Florence Henderson, please see the article "Florence Henderson."