Posts for: October, 2014
By Mario A. Vilardi, DMD
October 20, 2014
Chewing tobacco is a known cause of oral cancer, yet many a Major League Baseball player has been seen walking onto the field with a round tin visibly poking out of his back pocket. That was before this year. Recognizing the influence big-leaguers have on their young fans, MLB players agreed to a new contract that limits their use of chewing tobacco and their ability to carry it around their fans. The 2012 season is the first to be played under the new rules, which were championed by Baseball Commissioner Bud Selig.
One player who used smokeless tobacco heavily is Baseball Hall of Famer Tony Gwynn. The former Padres slugger earlier this year endured 14 hours of surgery to remove a cancerous growth from the inside of his right cheek and graft a nerve from his shoulder to replace a facial nerve damaged by the tumor. This was Gwynn's second cancer surgery in less than two years.
When it comes to oral cancer, the importance of early detection can't be stressed enough. Unfortunately, this form of cancer is not usually detected until a late stage so the overall survival rate is poor, with only 58% surviving five years after treatment. Yet when oral cancer is detected while a lesion is small, survival rate exceeds 80%. That's why an oral cancer screening is always part of your dental check-up or regular cleaning appointment at this office.
During this screening we will examine your face, neck, lips, mouth, tongue and the back of your throat for any suspicious lesions (sores or ulcers) or lumps. Of course, if you notice any unusual lesions, or color changes (white or red patches), anywhere in your mouth that do not heal within two-three weeks, please come in to see us as soon as possible. And if you need help kicking a tobacco habit, we can advise you on how to get it.
If you would like more information about oral cancer, please contact us or schedule an appointment for a consultation. You can also learn more by reading the Dear Doctor magazine article "Oral Cancer."
By Mario A. Vilardi, DMD
October 20, 2014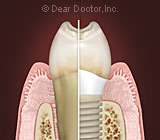 Dental implants have emerged as the premier replacement option for lost teeth. Their life-like appearance, durability and versatility have made them extremely popular with patients.
Implants aren't a quick fix, though: in most cases the process takes months to complete. Here's a chronological overview of what you can expect if you decide on dental implants.
Stage 1: Planning. The process begins at least a few weeks before the actual implantation with an examination to determine what's best for your individual case. Implant materials and designs are quite numerous, enabling us to precisely match individual tooth types, shapes, lengths and color. We then use x-rays or CT scanning to identify the best locations for the implants — careful planning here increases the chances that implantation will go smoothly and the final outcome will be aesthetically pleasing.
Stage 2: Implantation. Once we've finished planning, it's time to surgically insert the titanium implants into the pre-determined locations in the jawbone identified during Stage 1. While this procedure is relatively minor and routine, the surgeon still operates with precision and care to ensure the best functional and aesthetic outcome.
Stage 3: Integration. In most cases after implantation, we'll need to wait for a few weeks before attaching the final crowns. Because bone has an affinity for titanium, it will grow and adhere to the implant during this waiting period, anchoring it securely into the bone that will increase its long-term durability. We attach temporary teeth made of acrylic plastic (along with giving you some precautions on biting and chewing) to help you function normally during the waiting period.
Stage 4: A Transformed Smile! Once integration has been achieved and the gum tissues fully healed, we can then attach the permanent crowns. These crowns are typically made of strong, durable materials that will fit the healed gum tissues more precisely than your temporary crowns. Depending on the type of implant used, the crowns are either cemented or screwed into place onto the implant.
The process of dental implantation involves a lot of time, effort and precision. In the end, though, it's well worth it — the joy of new teeth that will function well for years and look great too!
If you would like more information on dental implants, please contact us or schedule an appointment for a consultation. You can also learn more about this topic by reading the Dear Doctor magazine article "New Teeth in One Day."