Posts for: September, 2014
By Mario A. Vilardi, DMD
September 24, 2014
Tooth decay (dental caries) is one of the world's most common infectious diseases. Left untreated, it can lead to tooth loss. The best treatment strategy, of course, is to prevent it from occurring in the first place with a long-term approach that begins in early childhood and continues throughout our lifetime.
Here are some basic components for just such a prevention strategy.
Know your risk. We each don't share the same level of risk for tooth decay, so it's important to come to terms with any factors that raise your personal risk for the disease — your dental history, inadequate oral hygiene, absence of fluoride use, and lifestyle habits like smoking. Coming to terms with these and other factors — and altering those you can change — can lower your risk.
Reduce acid-producing bacteria in your mouth. Tooth decay usually arises from elevated acidic levels in the mouth caused by certain strains of oral bacteria. You can reduce these bacteria by removing plaque, a thin film of food particles that collect on tooth surfaces, with daily oral hygiene and regular cleanings in our office. In some cases, we may also recommend antibacterial mouthrinses like chlorhexidine to further lower the bacterial population.
Apply protective measures to teeth. Fluoride, a naturally occurring chemical, has been proven effective in strengthening tooth enamel and reducing tooth decay. In addition to fluoride found in many oral hygiene products and public water systems, children can also benefit from a direct application of fluoride to the enamel surface just after the teeth have erupted in the mouth. Many clinical studies have shown 99% cavity free results in over a thousand teeth receiving a fluoride application with sealants.
Control your diet. Bacteria ferment leftover sugars and other carbohydrates in the mouth; this creates acid, which can soften tooth enamel and lead to decay. You can limit this effect by eating more fresh fruits and vegetables and reducing your consumption of refined sugar. You should also limit between meal snacking — constant snacking prevents saliva, the mouth's natural acid neutralizer, from effectively restoring the mouth's pH balance.
A prevention strategy for tooth decay will help you avoid unnecessary pain and problems — physically and financially. You'll also reap the rewards that come from a lifetime of good dental health.
If you would like more information on preventing tooth decay, please contact us or schedule an appointment for a consultation. You can also learn more about this topic by reading the Dear Doctor magazine article "Tooth Decay."
By Mario A. Vilardi, DMD
September 09, 2014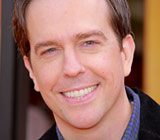 The lengths that some comedians will go to for a laugh! Actor Ed Helms, as dentist Stu Price, pulled out his own tooth in the movie The Hangover. Or did he? Turns out Helms really is missing a tooth, which never grew in. When he was in his late teens, he received a dental implant to make his smile look completely natural.
Helms told People magazine he wasn't exactly eager to remove the implant crown that had served him so well for almost 20 years, but there was no better way to do the famous tooth-pulling scene.
"We started to do different tests with prosthetics and blacking it out and nothing worked," Helms told the magazine. Helms' dentist said it would be okay to take the implant crown out. "My dentist was really into it," Helms said. The rest is movie history!
Congenitally missing ("con" – together with; "genital" – relating to birth) teeth are inherited and actually quite common. More than 20% of people lack one or more wisdom teeth, for example. These would not usually be replaced if missing (in fact, wisdom teeth are often removed) but it's a more serious issue when the missing tooth is in the front of the mouth — and not just for aesthetic reasons.
When a particular type of tooth is missing, it disrupts the pattern and function of the teeth. If left alone, sometimes the existing teeth will shift to close the gap. It's like removing a brick from an arch — the rest of the bricks would fall together in a different formation (or collapse entirely). And when upper and lower teeth don't come together properly, they can't function well.
The best treatment for this type of situation is the one Ed Helms had: a dental implant. They look and function like real teeth and do not attach to or damage adjacent teeth as other tooth-replacement options might.
It is important that a child with a congenitally missing tooth wait until jaw growth is complete — different for every person but usually in the late teens — before getting an implant. Otherwise, the artificial tooth might eventually appear too short when the person has stopped growing. In the meantime, there are temporary tooth replacements that can be made.
If you would like more information about options for congenitally missing teeth, please contact us or schedule an appointment for a consultation. You can learn more by reading the Dear Doctor magazine article "When Permanent Teeth Don't Grow." Dear Doctor also has more on "Teenagers & Dental Implants."