Posts for: April, 2014
By Mario A. Vilardi, DMD
April 17, 2014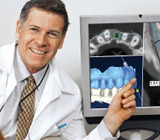 There's no question that x-ray imaging has transformed how we diagnose and treat dental problems. But traditional x-rays have at least one limitation — they are two-dimensional portraits that can only provide a portion of the information available. If you could view the interior of teeth or other mouth structures in three dimensions, you would have access to more detail about their conditions.
Computerized axial tomography (CAT) scanning has brought that third dimensional view to physicians generally and, in more recent years, to dentists. The latest development in this technology is known as Cone Beam Computed Tomography (CBCT). A CBCT emits a spiral of x-rays that form a cone-shaped beam that is caught on detectors. Using digital geometry, the CBCT then generates a three-dimensional image by precisely "layering" this large series of two-dimensional images caught by the detectors on top of each other.
CBCT is already making a significant impact in dentistry and its related specialties. Dentists now can visualize with amazingly precise detail the three-dimensional anatomy of the teeth, jaws, facial bone and other structures in the head and neck area. Orthodontists can examine the growth stages of a patient's teeth eruption to better prepare treatment strategies. Oral surgeons can determine the precise location of impacted teeth and their exact proximity to nerves and sinuses. And, periodontists who specialize in gum disease and treatment can better determine the level of bone loss and gum attachment for more accurate diagnoses and effective treatment.
While a CBCT delivers a higher dose of x-rays than a traditional panoramic radiograph, it actually delivers a lower dosage than a digital standard 18 film full mouth series or than conventional medical CT scanners. The field of view also determines the level of x-ray exposure — the smaller the field of view (and more concentrated the x-rays) the higher the dosage and the better detail of anatomy.
The good news, though, is that a low dosage CBCT scan can still provide a level of detail that can provide dentists with a very accurate view of anatomical features, including bone density and mass, in three dimensions. That capability can vastly elevate the accuracy of diagnoses and lay the groundwork for effective dental treatment.
If you would like more information on the uses of CBCT scanning to help you maintain dental health, please contact us or schedule an appointment for a consultation. You can also learn more about this topic by reading the Dear Doctor magazine article "CAT Scans in Dentistry."
By Mario A. Vilardi, DMD
April 02, 2014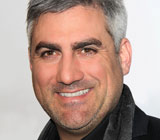 Some train intensively for months ahead of time, so they can achieve peak performance during the season; others simply enjoy occasional pick-up games with friends. But here's something all athletes, both amateurs and professionals, should know: Dental accidents in sports can happen at any time, and the consequences of not wearing the proper protective equipment can be serious.
Don't believe us? Just ask American Idol season 5 winner Taylor Hicks. Before his singing career took off, Hicks was a high-school basketball star; he lost his two front teeth during a championship game.
"It was just one of those collisions that happen in sports," Hicks recently told Dear Doctor magazine. "I never wore a mouthguard in basketball. Obviously I should have."
We agree. And we want to remind you that basketball isn't the only game that poses a risk to your teeth (although statistics show it's the leading cause of sports-related dental injuries). Soccer, bike riding, and equestrian sports — along with some two dozen other games and physical activities — are all on the American Dental Association's list of sports in which participants should wear a mouthguard.
What's the best kind of mouthguard? The answer is: the one you actually wear. For the maximum comfort and protection, there's nothing like a custom-fitted mouthguard provided by our office. This is a piece of protective equipment that's individually crafted just for you — in fact, it's made from a model of you own teeth! Not only will it fit your mouth perfectly, but it's also strong, lightweight and easy to wear.
It's true that off-the-shelf mouthguards are available from big-box retailers in limited sizes (like small, medium and large); also available are the so-called "boil and bite" types, which you soften in hot water before molding them into shape with the pressure of your fingers, teeth and tongue. Either one of these options is probably better than nothing — but neither provides the level of protection and comfort that a custom-made mouthguard offers.
When you consider the potential cost of tooth replacement — not just its hefty price tag, but also the lost time, trouble and inconvenience it can cause — we think you'll agree that a perfectly fitted mouthguard, made by our office, is a piece of sports equipment you really can't afford to do without. Best of all, its cost is quite reasonable.
So if you're the active type, come in to ask us about fitting you with a custom mouthguard. For more information, please contact us or schedule an appointment for a consultation. You can learn more in the Dear Doctor magazine articles "Athletic Mouthguards" and "An Introduction to Sports Injuries & Dentistry."