Posts for: February, 2014
By Mario A. Vilardi, DMD
February 21, 2014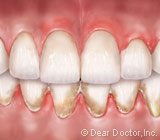 Periodontal or gum disease is a serious condition that could lead to tooth and bone loss. Unfortunately, you may not even realize you have it — the disease in its early stages can be difficult to detect. If you know what to look for, however, a few signs can tell you something isn't quite right.
Bleeding gums after brushing, for example, are a likely indication that your gum tissues are inflammed due to an infection caused by bacterial plaque. Coupled with chronic inflammation from the body's response to the infection, the unhealthy tissues bleed easily.
As the disease progresses, you may also notice changes in your gums' appearance: redness at the gum line, as well as some slight swelling. Receding gums expose more of the tooth below the enamel crown. As roots become exposed to the oral environment, you'll begin to notice painful sensitivity to hot or cold. In time, the disease may cause bone loss producing other signs like loose teeth or teeth shifting from their original position.
In some cases, gum disease can cause a painfully acute abscess. This occurs when the bacterial infection becomes isolated in a pocket of space between the teeth and gums. As the body attempts to fight the infection, its defenses are overwhelmed and the abscess becomes painful, swollen and filled with pus.
If you encounter any of these signs, it's important to take action quickly to minimize the damage and stop the disease's progress. Our first priority is to remove as much bacterial plaque and calculus as possible and may consider antibacterial and antibiotic treatments. This may take more than one session, but it's necessary in stopping the disease.
Long-term success, though, will depend on improved oral hygiene (brushing and flossing), regular office cleanings to remove difficult to reach plaque and calculus, and checkups to monitor the condition of your gums. You can also lower the risk of reoccurrence with improvements in diet and life-style (such as quitting smoking). Instituting better hygiene and lifestyle habits, as well as keeping alert to any signs of recurring disease will go a long way in preserving your teeth and overall oral health.
If you would like more information about periodontal disease and its effect on your health, please contact us or schedule an appointment for a consultation. You can also learn more about this topic by reading the Dear Doctor magazine article "Warning Signs of Periodontal (Gum) Disease."
By Mario A. Vilardi, DMD
February 05, 2014
"Break a leg" is a well-known theatrical expression for wishing good luck to an actor about to go on stage. Singers should have one of their own…"Chip a tooth"! Apparently collisions between microphones and pearly whites are an occupational hazard for crooners. Taylor Swift became one of the latest casualties during a concert in Pittsburgh while belting out her hit "I Knew You Were Trouble." The consummate professional, she didn't miss a beat and kept on singing despite seeing a tooth chip hit the floor.
After all, while chipping a tooth is an inconvenience, it's not a permanent smile wrecker. Modern dentistry offers several options for restoring a damaged tooth to its original symmetry and luster, or even better!
Bonding
Dental cosmetic bonding is the quickest and lowest-cost option to repair a chip. This involves application of a composite filling material that is colored and shaped to match the original tooth. Bonding material can be used to replace the lost portion of tooth or to seamlessly reattach the lost portion if it has been preserved and is otherwise undamaged. Little to no removal of existing tooth surface is needed.
Veneers
A veneer can be used for slightly larger areas or discolored teeth. This is a thin, custom-made shell placed on the front of the tooth to give it a new "face." Some removal of existing tooth surface may be necessary to fit a veneer so it is flush with the surfaces of surrounding intact teeth.
Crowns
When a relatively large portion of the tooth is missing, a crown is often the better choice. It fully encases the visible portion of the remaining tooth above the gum line and is shaped and sized to match the original. It can be made of tooth-colored porcelain fused to metal crowns or all-ceramic (optimal for highly visible areas). A small amount of the existing tooth surface will be removed to allow the crown to fit over it.
If you would like more information about repairing a chipped tooth, please contact us or schedule an appointment for a consultation. You can also learn more about this topic by reading the Dear Doctor magazine article "Artistic Repair of Front Teeth With Composite Resin."